Kyudenko CSR System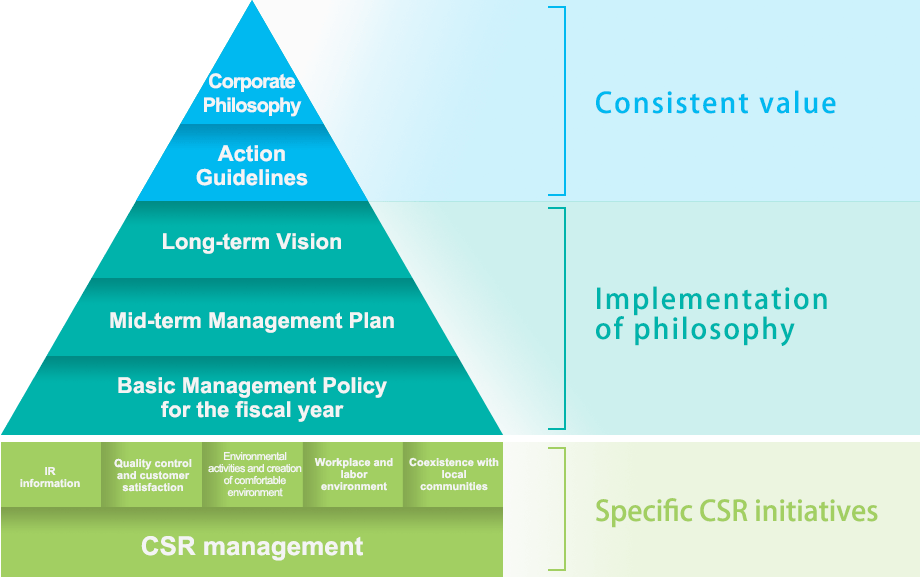 Corporate Philosophy
We contribute to society through providing agreeable environmental solution.
We keep challenging for sustainable development through our engineering strengthand create a new value.
We aim to create mutual respecting environment in Kyudenko which utilize anddevelop employees' personality.
Action Guidelines
We will create the future environment with a new perspective
We will enhance technological force with creativity and ingenuity
We will appropriately accept and respond to customers' voice
We will embrace teamwork in work
We will create a vibrant and bright workplace
We have established our CSR system as follows: "Unchanging values" → "Development of our philosophy" → "Specific CSR initiatives".
The "Corporate Philosophy" that represents the purpose of businesses and the reason of existence of Kyudenko, and "Action Guidelines" based on the Corporate Philosophy are our "consistent values" that will never change in the future. In order to practice the "consistent values", specific issues from long-term, medium-term and annual perspectives are incorporated into the "Long-term Vision",
"Mid-term Management Plan" and "Basic Management Policy for the Fiscal Year" respectively, and these plans are regarded as "implementation of philosophy". Placing these plans at the core, "specific CSR initiatives" are taken in six categories: "IR information", "quality management and customer satisfaction", "environmental activities and creation of comfortable environment", "workplace and labor environment" and "coexistence with local communities" together with "CSR management" as the foundation of CSR.