Message from the President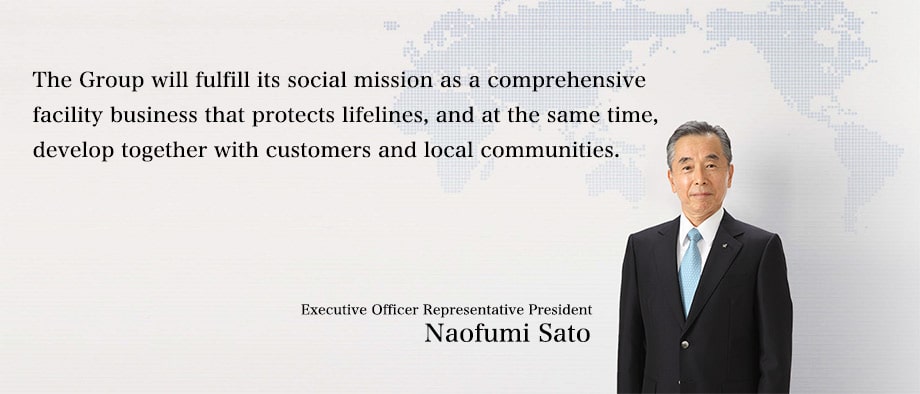 Kyushu Denki Koji Corporation, the forerunner of today's Kyudenko, was founded in December 1944 with the merger of 14 electric construction companies in Kyushu. We celebrated our 75th anniversary in December 2019.
The Kyudenko Group's corporate philosophy embodies a commitment to "contribute to a society by creating comfortable environment for all," "create new values with our technology and challenging spirit going for future," and "aim to be a company where human-oriented corporate culture is being developed." In keeping with that commitment, we have adopted a managerial approach that seeks to full our social mission as a general facilities contractor charged with safeguarding critical infrastructure while continuing to grow and evolve along with customers and the local communities we serve.
We're working to promote development of new technologies and improve quality in a variety of areas, including the environment, energy efciency, and renewal construction.
Our goal is to increase corporate value while responding appropriately to changes in social structure by actively pursuing businesses that target new elds and markets while earning customers' trust and living up to their expectations.
To achieve these priorities, the Group has come together to achieve the goals set forth in its current ve-year Mid-term Management Plan, which ends in FY2024. The plan, whose central goal is to establish a management platform that will facilitate sustained growth by orchestrating three revolutions (in construction capability, productivity, and governance), is geared to focus all the Group's resources on building a resilient, muscular corporate constitution so that we can realize dramatic growth and development by the plan's last year and onward towards our 100th anniversary (in FY2044).
At the same time, we will work through our business activities to contribute to the realization of the United Nation's Sustainable Development Goals (SDGs), which exhibit a high degree of afnity with the Group's businesses.