PFI Business
What Is PPP/PFI?
A public-private partnership (PPP) is a scheme where the public and private sectors work together to provide public services. A private finance initiative (PFI) is a typical method of PPP. PFI aims to provide public services efficiently and effectively by using the private sector's funds and expertise in the design, construction, maintenance, management and operation of public facilities and having the private sector take the lead in providing public services.
PPP/PFI businesses became prevalent in Japan after the PFI Act took effect in 1999. Leveraging the management expertise and engineering strength established as a community-based provider of integrated utilities engineering services, the Kyudenko Group participates in a number of PPP/PFI projects, which are considered as new methods of social capital development in public works.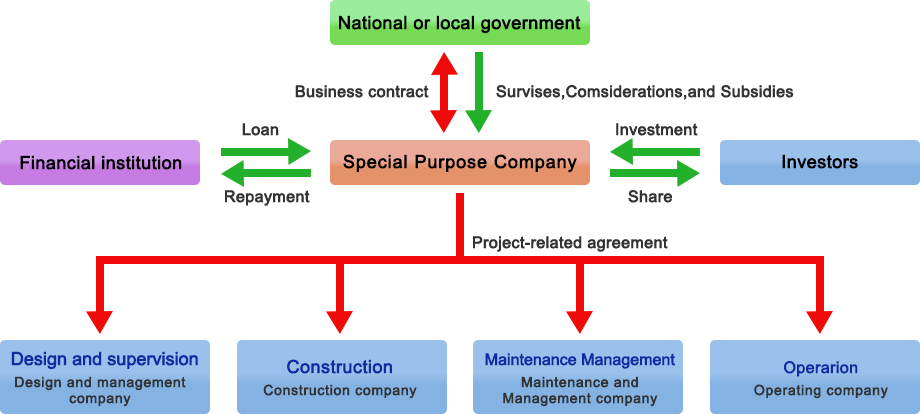 Orders for PPP/PFI projects (as of March 2021)
| | |
| --- | --- |
| Participated as a representative company | 15 projects |
| Participated as a constituent company | 27 projects |
| Participated as a cooperating company | 5 projects |
| Total | 47 projects |
Project Example
Dejima Messe Nagasaki was established in an aim to take advantage of Nagasaki's past of communicating information to the world, and create a new platform for interaction in a city that brings about and nurtures interaction. With the Convention Hall that allows socially distanced seating arrangements and the installation of large-capacity, high-speed communication lines, the facility is available not only for online conferences but also esports and other special events. The adjacent Hilton Nagasaki has 200 guest rooms, the Executive Lounge, a fitness gym, hot baths, and other facilities, and is expected to contribute significantly to an increase in the guest population as a new landmark hotel of Nagasaki.
(1) MICE SPC (Convention Hall, etc.)
Client
Nagasaki MICE Co., Ltd.
Investment style
PFI project contract(Representative company: Kyudenko)
Project period
20 years
(2) Hotel SPC (hotel, tenants, etc.)
Client
M&H Nagasaki Hotel LLC
Investment style
Anonymous partnership contract
Project period
50 years
Achievements
We entered the PFI/PPP business in 2003, and we've been involved with 50 leading projects throughout Japan, including Mikuni World Stadium Kitakyushu, J:COM HorutoHall Oita, Dejima Messe Nagasaki, and Marine Messe Fukuoka Hall B.While utilizing this wealth of experience, we offer business proposals that best fit the characteristics of each business.