ZEB Initiatives
Based on the corporate philosophy of "Contributing to society through the creation of a comfortable environment," we are tackling the SDGs through the proposal, design, and construction of energy conservation, clean energy, and resource recycling projects.
As the movement toward carbon neutrality accelerates, we see the realization of a decarbonized society as an opportunity for growth, and as part of this effort, we will focus on the spread of ZEB.
We provide not only mechanical and electrical equipment as a comprehensive facility company, but also one-stop services, including construction, in cooperation with Kyudenko Group companies and alliance companies.
We use our technical capabilities to design, estimate, calculate energy savings, and make optimal proposals.
We support the preparation of subsidy applications.
In order to increase the number of ZEB facilities in society, we will actively propose ZEB to our customers.
Kyudenko Oita branch office new construction work energy saving technology introduction example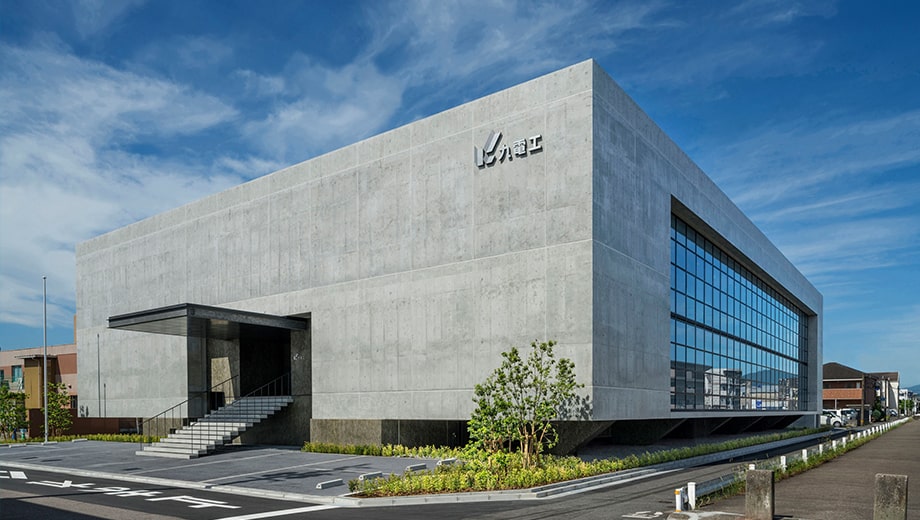 Energy-saving technology [BEIm (BEI calculated by Model Building Method) = 0.65 achieved
High-efficiency multi air conditioners for buildings
LED lighting
Motion sensors for corridor and WC lighting
Openings on the east and west sides, where the heat load is large, are almost eliminated, and only the north and south sides are used as lighting surfaces.
BCP measures
Consideration for tsunamis (1 to 2 m above ground level) (office rooms are set at GL+2 m or more)
Emergency generator circuits are supplied to some of the emergency circuits and electrical outlets.
Installation of emergency sewage tanks